SpringFest Interview: 3 Doors Down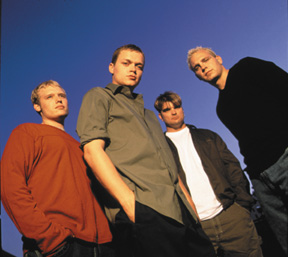 Portions of this interview were published in Boogie Pensacola. This extended version is available exclusively online.
BY JIM BEAUGEZ
3 Doors Down, an Escatawpa, Mississippi-based rock quintet, has found sudden success with the release of its debut album, The Better Life, on Republic/Universal Records. Released in February, the album was an immediate success, thanks to the hit single "Kryptonite."
The Better Life currently occupies the No. 24 slot on Billboard's Top 200 album chart after only 12 weeks, and "Kryptonite" tops the Mainstream Rock chart at No.1. The RIAA recently certified the album Gold (500,000 copies sold).
3 Doors Down rose out of the Biloxi/Gulfport club scene, becoming an almost instant success story. The band self-released a CD and began selling out 2,000-seat venues in the area shortly after debuting at small, pay-your-dues bars. Once local radio station WCPR-FM caught wind of the group, the band became local celebrities and attracted major labels to the coast.
After a showcase at New York's famous CBGB's club, Republic/Universal Records signed the band and sent them to Memphis to record with producer Paul Ebersold (Sister Hazel). The Better Life is a combination of re-recorded tracks from the band's 1997 indie debut and newer tracks written by the band since that album's release.
Since then, the band has toured with Creed and Sevendust in between dates on its own headlining tour. They also just finished up filming the video for "Kryptonite," which has already hit MTV.
Four of the members of 3 Doors Down (Brad Arnold, vocalist and studio drummer; Todd Harrell, bass; Matt Roberts, guitar; and Richard Liles, touring drummer) recently sat down for an interview before a sold-out performance in Virginia Beach, Virginia. (Guitarist Chris Henderson decided to forgo the interview in favor of dinner).
How easy or hard was the transition from being a local Gulf Coast band to a national act?
Todd: It was easy with a bus (laughs).
Brad: Actually, it's kind of like starting over. It's definitely more fun now, just playing in a different place every night and seeing different people. [People] pretty much react differently. It's all good, but it's a little different everywhere.
Have you been playing to enthusiastic audiences?
Brad: Oh yeah.
Todd: They're wild.
Brad: The all-ages shows are the wildest.
What has success done to the band as a unit and as friends?
Todd: Being good friends has made us tighter.
Brad: Yeah, we've known each other all our lives.
Todd: Except Richard, who's the new guy. He fits in really well, though.
How about privacy?
Brad: There is none.
Richard: The bunk [on the tour bus] and the shower are the only privacy you get.
Brad: When somebody's curtain is closed, you don't open it. (laughs)
Have your label and management been supportive?
Brad: Oh yeah. We've got a good team- probably the best you could ask for. [We have] the best managers in the business and the biggest record company in the world.
Todd: From our road managers to our roadies, it's like a family.
I know you've done quite a few radio in-studio appearances, but what are some other interesting opportunities you've had lately?
Todd: We got to record with Alex Lifeson from Rush [in New Orleans in January]. That was pretty wild.
Will anybody ever hear it?
Matt: Maybe, maybe not. It's kind of a B-track thing.
Brad: It'll come out sooner or later.
You've only been on the road for a few months, but do you have any crazy stories to tell so far?
Brad: We had a truck burn to the ground on the way to Tampa! [The driver] didn't realize you weren't supposed to pull the trailer in overdrive, and it just caught on fire and burnt to the ground.
Todd: We should've had a van, but it was the day before New Year's and we were supposed to be in Tampa. We were just rushed, man. That was the only way we could get down there.
Richard: Tell 'em about the girl and the sweat! (laughs)
Brad: Man, we were playing this show- I forget where- and we were all sweaty, you know? It gets hot up there onstage. A big drop of sweat dripped off Todd's nose onto the stage and this girl in the front row reached over and licked it up off the stage!
Todd: I wanted to throw up.
Is success all that you thought it would be?
Todd: All and more, man. It's great. Just playing music- that's the biggest thing for me.
Brad: Getting up onstage every night is awesome. It's what I've always wanted to do. It's just a dream come true, totally.
Richard: You meet a lot of famous people, too.
Brad: Chris got to play video games with Puff Daddy in L.A. We also met Little Richard and Don Henley out there.
How much has the band grown since the release of The Better Life?
Brad: I didn't expect it to do as good as it's done. It sold more albums the first week as a first release than any other record.
Didn't you break Pearl Jam's record?
Todd: Yeah they had, like, 6,000 sold [of Ten] and we had 16,000. It turned out to be the biggest debut album ever. It's pretty wild.
For more information on 3 Doors Down, visit their website www.3doorsdown.com.