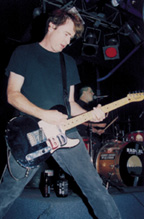 SpringFest Interview: Dash Rip Rock's Bill Davis
Portions of this interview were published in Boogie Pensacola. This extended version is available exclusively online.
BY MIKE ROYCROFT
If there were an official band of Springfest, it would have to be Dash Rip Rock. For almost the entire history of the festival, guitarist and singer Bill Davis, bassist Hoakie Hickel, and drummer Kyle Melancon made the trip from New Orleans to Pensacola to play the festival.
However, the rowdy country rock outfit has found itself in transition over the past couple of years. Founding member Hoakie left the band abruptly last year, and Bill Davis moved from New Orleans to Nashville. With all of the changes that have taken place, we thought we'd check in with Bill to see what was going on in the world of Dash.
It's been a couple of years since we last interviewed you. Obviously, a lot has been going on. Hoakie left the band, and you've moved to Nashville. Tell us what's been going on.
Davis: Hoakie left us before the last Springfest, last year. Now, we've got a brand new bass player from Nashville. His name is Kenny Ames. He plays with Jason and the Scorchers, that's his regular gig. They're taking about a year off, and he's going to play with Dash for about a year, and then probably go back and play with the Scorchers. He lives up here in Nashville, so we're sort of living two-thirds up here in Nashville now.
What happened first, the move to Nashville, or Hoakie leaving?
Davis: Oh, Hoakie left a long time ago. He quit, right around Mardi Gras. He was tired of touring, he was getting tired of--I don't know, he just had like a major life change. He left his wife, sold his house, moved to Miami, quit as bass player of Dash Rip Rock. He just sort of disappeared. And we didn't want to quit, because we still had good gigs coming up, and we've got a new record out now, too. So we decided to go on with a different bass player.
Last time I talked to you and asked about your future plans, you said something to the effect of "as long as me and Hoakie wanna do it, we'll be good to go." Was there any thought at all that maybe this is the end of the line here?
Davis: Well, you're right on that. Yeah, there was. And moving to Nashville has sort of given me a different avenue of things to do. But he was pretty much one of the core members, so we thought we were pretty much just going to break up the band. But there were just too many people who wanted to see us continue, and me and Kyle felt it was a big part of our lives, and just because he wanted to give it up, we didn't want to. So, we weren't going to let him control our destiny (laughs). So, we decided to keep on going. And with the new bass player, we found that the audiences were just as happy to see us. Albeit, some of the real sloppy drunks were sad that Hoakie wasn't here to pour Jack Daniels down their throats (laughs). But other than that, everybody just wanted to hear the songs and see us play. But there was definitely a thought about chucking the whole thing. But the response that we got by using a replacement bass player made us believe that we could keep on going.
When did you move to Nashville?
Davis: I moved here last August, so I've almost been here a year. I moved here to sort of get out of the city and live out in the country. We don't really live downtown in Nashville. We bought a farm up in the mountains. So, basically we just wanted to get out of the city.
Is there a new musical dynamic in your new surroundings changing the sound that you're coming up with now?
Davis: No, Dash was sort of country rock anyway. We're sort of known around Nashville, so I've been able to hook up with some of my old friends, like the guys from the Georgia Satellites and Webb Wilder, and just a bunch of old buddies we used to tour with, and they're still part of the insane southern rock thing. We're still doing the same thing. But I have been getting into the rut of songwriters here. Every time you take a step, you're liable to step on a songwriter. There's millions of them up here in Nashville. So I've been sort of hanging with them, it's a cooler crowd.
Tell me about the new record, is that your live album?
Davis: No, the live one is still in the can. We're looking to get it away from our former management. So what we've done in the meantime is just release a greatest hits record. It's called Hits and Giggles. It's material from our last four albums. It pretty much spans the whole thing. It's a fast pace record, it's really kind of a punk rock record.
And now you're getting ready to play Springfest. You guys are a standard entry for that.
Davis: Yeah, I know, it's pretty exciting. We were originally going to play on Sunday, and then we got switched to "rock night" with Blue Öyster Cult, so we're pretty fired up. We've played in Europe with them before. We're getting to be old hands at opening for BÖC.
I'm certainly looking forward to it.
Davis: Yeah, it's our favorite gig of the year, no question about it. I mean, we've played with Jerry Lee Lewis there, we've played with Hootie and the Blowfish, we've played with Fishbone, we've played with some awesome bands at Springfest. We always look forward to it. Mainly, just to get to meet some of the other musicians.
I was looking at your website, and looking at the list of some of the people you've played with before. One of the ones that really hit me was the Black Crowes. I can't even imagine how much alcohol must have been pouring for that pairing.
Davis: Yeah, they were just getting started, so they actually opened for us. They were really wet behind the ears. Yeah, we got really drunk, but they were really just kids, and we didn't really think they had much of a future (laughs). They were really inexperienced, and they kinda sucked when they opened for us. They didn't sound very good. But, sure enough, a year or so after that, they hooked up with that producer in Atlanta, and they totally metamorphasized into an amazing band. We played in Georgia with them. We tried to teach them how to be rock and rollers.
What are your immediate plans for the future. Are you going to be touring a lot, or just waiting to get the new lineup together?
Davis: We're going over to Europe in June for two weeks. We pretty much do that every year. I think now that we've found a good bass player here in Nashville, we're probably going to start touring again in the fall and maybe base ourselves out of Nashville instead of New Orleans. That way, we can get more of a central location and play places up north as well. So, we're definitely going to start touring again, and probably do a new CD in the fall.
Is Kyle ready to make the jump to Nashville?
Davis: No, no, he never will. He's Cajun, so he has to stay down there. He can't live without his daily infusion of crawfish. But he likes coming up here. There's so much music industry in town, it is a much better place to play music. Everybody is a little more in tune to what you're doing. In New Orleans, everybody's kinda getting drunk. Up here, they're actually listening to the music. There's more of a chance to make something happen in Nashville than in New Orleans.
For more information on Dash Rip Rock, visit their website www.dashriprock.com.