Local Rapper Getting National Attention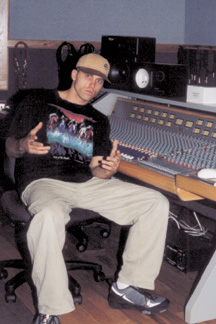 BY KEN GAILLOT
"I'm constantly getting phone calls from newspaper journalists, magazines, and radio stations throughout the United States and Canada," says Pensacola resident Shawn Enfinger. "It's gotten international press."
'It' is Murder In Our Backyard, the CD maxi-single Enfinger released in late 1998 under the stage name Shadowyze (pronounced "shadow-wise"). Enfinger is a local rap artist of Creek and Cherokee ancestry whose lyrics draw attention to the problems facing Native Americans.
National Press
The first press coverage Shadowyze received was a December 1998 interview published in Boogie Pensacola. That article said of the CD, "Distributed through major chain stores, played on Native American radio stations across the country, and produced by a nationally known rap producer, Murder In Our Backyard is likely to win some attention."
That turned out to be an understatement. Since its release, the CD has gotten press in national rap magazines like Word Up! and Insomniac, Native American press like Native Peoples magazine and Indian Country Today newspaper, local newspapers along the Gulf Coast, and even Harvard University's anthropology magazine, Cultural Survival.
Shadowyze has appeared three times in Native Peoples magazine already. In their next issue, he will be one of five or six rappers on the ballot for their annual Native American music awards.
Getting Heard
Shadowyze has taken his music across the country and even to Europe.
His songs have been played on over forty Native American-owned radio stations across the United States and another dozen in Canada, as well as some U.S. college radio stations.
To support the record, Shadowyze toured Indian reservations across the U.S., including Creek, Cherokee, Seminole, Potawatamee, and Oneida communities in Florida, Oklahoma and Wisconsin.
"I did a lot of radio interviews, did an interview on Cox TV up there," he says, "and basically got the word around."
He also played the First People's Pow Wow in Long Island, New York, a large event attended by thousands. Last summer, he went to Germany and England, promoted by Thomas Merbt, who owns the largest Native American museum in Germany, and gave a promotional concert for a couple of hundred people.
"I went around the radio stations over there in Heidelberg and Mannheim, got some airplay," says Shadowyze. "I didn't have to wait long. He had the connections."
The Message
Shadowyze's techno-laden hip-hop carries a serious message--concern over the treatment of Native populations across North America, from American Indians to the Maya of Central America.
"Murder In Our Backyard" focused on the struggle of Indians in Chiapas, Mexico, mistreated by their government and brutalized by the military.
In support of his political beliefs, Shadowyze participated in two large protests last year, one in support of jailed Native American Leonard Peltier, and the other to protest the training of Central American militaries at Ft. Benning, Georgia. The Ft. Benning protests invited Shadowyze as a special entertainer to perform "Murder In Our Backyard."
In the 1975 incident that led to the arrest of Leonard Peltier, plain-clothes F.B.I. agents opened fire on a suspect on a South Dakota Indian reservation. Some Lakota Indians returned fire, killing the agents.
"The F.B.I. had to go back, brought in greater numbers, more guns, and even a couple of tanks," says Shadowyze, who says they framed Peltier for the shootings. "He has been in prison for twenty-three years. The way it looks is a lot of it is just to make an example of him, and keep the Indian reservations under strict control of the government."
The Ft. Benning protests center on the "School of the Americas," which trains Central American soldiers.
"The School of the Americas is known to train in psychological warfare and really deadly combative tactics that are absorbed by the soldiers there," Shadowyze says. "A lot of that is imposed from the government's beliefs that the land should be for industrialized nations, for corporations to put factories on. And if you're living in a poor village down there, you get pushed off the village by force, or by coercion, bribery, whatever."
Ancestral Spirits
Shadowyze hopes to gain even more attention for his message with his new full-length CD, Ancestral Spirits, due out next month. The CD will have three of the songs from the maxi-single, plus a dozen new songs.
"The new release is going to get me a lot more publicity, because I was turned down by a lot of magazines for the fact that I didn't have a full-length album," he says. "This time I would say I would get three or four times as much publicity."
The CD will be available in local record stores, and Shadowyze plans to push for a distribution deal with a record label to get wider promotion.
The new CD features guest appearances by other rappers, including Native American rappers Big Flav and Julian B, and Indya, whose remix of "My Boo" went gold in 1996 and who also appeared on Shadowyze's first CD.
Another collaboration Shadowyze is doing is a guest appearance on a new single by influential Celtic musician Talitha McKenzie, who has already charted one gold record in the U.K.
Shadowyze plans to play local venues after the new CD is released.
"When the album comes out, I'll be doing all kinds of local performances," he says. "I'll be doing as much as I can."