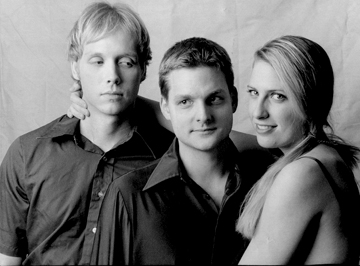 Photo by Jim Newberry
Volume 3 #5 (March 8 - 21, 2000)
Interview with The Blacks' Bassist Gina Black
BY MIKE ROYCROFT
The Blacks are a three piece country outfit with a tight, rockin' feel on Chicago's "insurgent country" label Bloodshot Records. The band consists of singer/guitarist Danny Black, bassist Gina Black, and drummer James Emmenegger.
When Boogie Pensacola asked me to review The Blacks' debut, Dolly Horrorshow, last year, I played the CD and became an instant fan. The Blacks played Sluggo's shortly thereafter, and I thought they sounded even better live.
When Boogie Pensacola asked me to review The Blacks' latest CD, Just Like Home, I jumped at the chance, and even went so far as to line up this exclusive interview by email with their bassist Gina Black.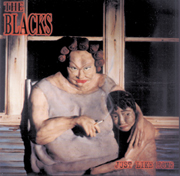 The Interview
I have to ask you about this album cover because it's definitely an attention-getter!
Gina: I drew the line drawing sketch of that about four and a half years ago, and just added it to my arsenal of pictures I make but don't actually do anything with. Dan decided on the album title months before we even recorded. I was a claymation artist at the time, and when Dan asked me use the picture for the album cover, I wanted to do something that looked creepier, more life-like. So I re-did it in clay and had it photographed by Matt Biscan, a fine young up-and-comer in the Chicago scene.
You guys have chosen to play a traditional style of music. How do you keep your originals fresh without falling into clichés or repeating the past?
Gina: Dan and I love the old styles of music, particularly the chord changes that they are based on. Blues, country, jazz and even the Beatles are very similar structurally when you break them down, but they still sound distinct and different. So if my heart is really moved by a certain C to G change held for a given time, a change that's been utilized a billion times in other songs, it sounds new because I'm screaming over it, or bowing my bass, or whatever. Every song I write starts with someone else's seed, but I'm the one that grows it into a living thing. I think I avoid clichés too by not following formulas. If it starts out as an AC/DC-ish song, it's nice to stick a sexy trumpet part in the middle.
Speaking of clichés, sorry for this standard "rock journalism" question, but could you give me a brief history of the band?
Gina: Dan and I met in October 1994 at Lounge Ax in Chicago. I was attending DePaul for classical upright bass, and Dan had just gotten over a heavy guitar band and was listening to Hank Williams, Louis Armstrong, Tom Waits, so on. He was looking for an upright bass player. We started playing together, went through a number of drummers and auxiliary members, and then finally found James Emmenegger through an ad in the Chicago Reader in late '97. Bloodshot Records is also based in Chicago, and although they had been aware of us for a little while, I don't think that Rob or Nan had seen us as a fully functioning band until South by Southwest (the celebrated annual Texas music summit) in '98. We signed in May, put out our first record in July, and now here we are. Anyone that wants to hear the good parts can buy me a beer when they see our show.
You used to have another guitarist, Nora O'Connor. What happened to her?
Gina: She was a friend of Dan's brother, and we originally were going to have her sing some back-ups with me for in-town shows. She started learning more guitar parts, came out on some tours, then all of them. Dan picked out a guitar and an amp for her, and things went pretty well for a while. After a while, though, it became apparent that she was more interested in singing and we wanted her to play more guitar. At this point, I'd just say we fired her, but the nice thing to say would be that we mutually decided to part ways. We're still friendly with her.
You guys have gotten your share of attention while playing smaller clubs. I've heard buzz about you from other towns, and I saw you mentioned in Rolling Stone a while back. Are you guys looking to get bigger in terms of corporate sales and popularity, or are you content where you are?
Gina: I'd like to be able to make a living off the band. It would be nice to be self-employed in respect to that, but we'd never change the way we do things just to make more money or go corporate. I think it's a little ridiculous when people go too far to preserve "indie cred." Between the punk living on someone's floor and eating a peanut butter sandwich once a day and Shania Twain, there's bands like Southern Culture or Reverend Horton Heat or Jesus Lizard that have fans from touring and performing. I like that idea.
Looking at some press clippings, you tend to get the focus of attention. Is that something you're comfortable with? Does that cause problems with the other band members? Do you feel trivialized, that some people see a female with a standup bass as a novelty?
Gina: I like attention. Fine, fuck it. If someone ever thinks I'm posturing or trying to get attention by wearing plastic pants, and they have a problem with that, they can kiss my ass. There's a place for looking good, putting on a good live performance, but I know my position and that is kicking ass. Dan and James don't seem to have a problem if I get a little more attention sometimes. Just as often, people won't shut up about what a great singer Dan is or what a talented animal James is. It depends on what someone's interested in, or maybe their sexual orientation and how drunk they are.
Have you had the opportunity to meet any of your musical heroes while touring?
Gina: Reverend Horton Heat. I've loved that band since I was in high school, and we played a show with them in Columbia, Missouri, back in '98. They were extremely friendly, and I heard the Rev watched part of the show backstage and told Dan afterwards that he liked us. I still hear from the drummer, Scott, infrequently. Last fall at the CMJ fest in NYC, we were drinking at the Lakeside Lounge when we heard a rumor that some of the musicians that played on the Gram Parsons tribute were playing an impromtu thing after doing Sessions at West 54th at the Guinness Bar. Gillian Welch, her guitar guy, the dude from "Whiskeytown," their violinist, and best of all Jim Lauderdale were playing. Lauderdale did "She Thinks I Still Care," and I believe that Dan was moved to tears. Well, there was no bass, so I slammed a few Guinness, got up my nerve and asked them if I could play. Jim Lauderdale was in particular extremely nice, and loved it.
Do you tend to play more "rock" clubs, or more "country" places? How is your audience divided between those genres?
Gina: The lines between "rock" and "country" clubs have become so blurred. Mostly it's clubs that have smaller bands, like Empty Bottle, Double Door, Schubas, and the Metro in Chicago. Clubs that may have Elliot Smith one night, and then someone who draws twenty people the next. In terms of our audience, I think our fans are pretty diverse. Punk rockers to older guys who tell us they just covered "Teresa Leaves Lonesome Town" (from Dolly Horroshow) at their family party. When we open for a band, we usually get a great response whether the main act is punk or country.
How do you go about writing songs? What sorts of things inspire you?
Gina: I usually have a lick or a cool line pop into my head out of nowhere, when I'm driving or laying in the tub. I really love writing words. It's almost like fitting a puzzle together. They need to flow, and have a unique rhythm to them. Dan and I usually write separately, work the song out on acoustic guitar, then bring it to the rest of the band. Two songs on Just Like Home we co-wrote, and I think that both times it was because we each had a good, undeveloped song and we were able to stick 'em together. Dan likes to get stoned and write. I'm inspired by beer, sex, good stories and things that make me mad or make me cry.
Does life on the road suit you?
Gina: Life on the road suits me damn good. I can barely contain my excitement about going out in a week or so. It's a rather difficult lifestyle, and if you try to live on what you make, you really need to be frugal. I still like to have enough money to eat well enough, keep smoking, drink good beer, and occasionally buy cool shit on the road. That sometimes means spending all my money, and I'm not going to be able to afford an IKEA furnished condo in Wicker Park with a Lexus or whatever and a stupid golden retriever. That's fine. I get to travel all over the country in my 20's, and do something that can be pretty fucking exciting every night. I really like being recognized for what I do (I'm pretty sure a lot more people know who I am than Carrie fucking Bollinger) and if Dan and I ever get married, we'll be sending out invitations all over the country. Each year, we know more people in more cities. That kicks ass.
Thanks to Gina for the great interview! This interview will also be featured in the second anniversary issue of Mike Roycroft's creative writing magazine Buzz Nietzsche due out in April 2000.